You've probably seen the newspaper ads that "hype" Spinal Decompression Therapy asking you to call some unknown doctor's office in order to receive a free report in the mail. We do not believe anyone should have to do that.
If you need any additional information, please call our office at 256-543-3033 and ask to talk to the doctor. That's right, I'll talk to you personally in order to help you make the right decision. Ask for Dr. Karen Tortoriello.
Spinal Decompression in Gadsden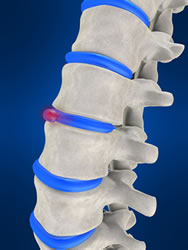 The New Way to Treat Herniated Discs Without Surgery
If you're suffering from a herniated disc and chiropractic adjustments/therapy have not yielded sufficient benefit, you should ask your doctor if you might be a candidate for spinal decompression therapy.
What is spinal decompression therapy?
It's a nonsurgical, traction-based treatment for herniated or bulging discs in the neck and low back. Anyone who has back, neck, arm or leg pain caused by a degenerated or damaged disc may be helped by spinal decompression therapy. Specific conditions that may be helped by this therapeutic procedure include herniated or bulging discs, spinal stenosis, sciatica, facet syndrome, spondylosis or even failed spinal surgery.
Many patients, some with magnetic resonance imaging (MRI)-documented disc herniations, have achieved "good" to "excellent" results after spinal decompression therapy.